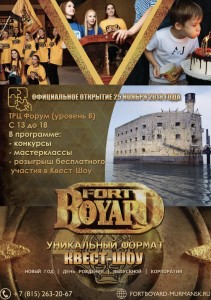 «FORT BOYARD» – the only unique QUEST-SHOW format in the city of Murmansk opened in the SEC «FORUM» on the first floor (level – B)! "FORT BOYARD" is a quest show and turnkey holidays for children and adults, where a script is prepared for every player of any age.
Feel like a hero of this adventure thanks to carefully thought out props and decorations!
Trials are waiting for you exactly the same as in the show Fort Boyard!
Website: https://f.fortboyard-murmansk.ru/