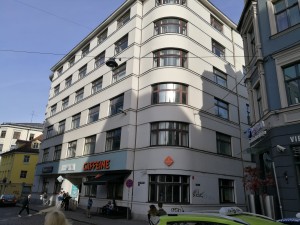 The real estate properties in Riga, Audēju Street 15 and Kalēju Street 48 owned by telecomunications company "Lattelecom" LLC at auction for a total price of 4.61 million euros was purchased by "NBP Park" LLC, informed the representative of "Lattelecom" Lāsma Trofimova.
"NBP Park" is owned by a private investment group "Nordic and Baltic Property Group" LLC with the head office in Stockholm.
The investment portfolio of "Nordic and Baltic Property Group" consists of real estate properties in the Baltic States, Finland and Russia, the tenants include such well – known companies as "NCC", "Telia Company in Finland", "Swedbank", "Nordea", "Danske Bank" "Transcom", "Narvesen", "Seesam" and others.
"Nordic and Baltic Property Group" is operating in Baltic States from 2010, and the group owns four office centers in Riga, three office centers in Vilnius and "Ericsson" factory building in Tallinn. "Nordic and Baltic Property Group" invests mainly in office, logistics and retail real estate properties with an investment horizon of 15 years, the group's portfolio also includes two hotels in Vilnius and St. Petersburg and a medical clinic in Riga. The group's portfolio in the three Baltic states, Finland and Russia is 250 million euros.
As already reported, "Lattelecom" in the auction offered to buy real estate on Audēju Street 15, which consists of the land and building, and the building on Kalēju Street 48. "Lattelecom" offered to buy properties in the open auction with an upward step and the auction starting price of 4.56 million euros, according to the real estate appraisers quoted market price in 2016. Property auctions were held also in 2011 (starting price – 3.4 million euros) and in 2013, when, by reducing the certain amount of the building burdens, the starting price was set at 4.55 million euros.
"Lattelecom" group offers electronic communication solutions for households, small and medium-sized enterprises, state and local government institutions, as well as corporate clients. "Lattelecom" group consists of the following companies – "Lattelecom", "Lattelecom BPO", "Citrus Solutions", "Lattelecom Technology", "Media 360″ and "Baltic Computer Academy". "Lattelecom" owns also 23% of "Latvijas Mobilais Telefons" LLC shares.
"Lattelecom" is owned by the State in the person of the Privatization Agency (51%) and "TeliaSonera" subsidiary "Tilts Communications" (49%), which is registered in Denmark. According to the information provided by the company, "Lattelecom" group profit last year was 32 million euros, while turnover amounted to 193.25 million euros.