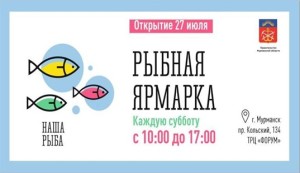 The fair "OUR FISH" will be open EVERY Saturday from 10.00 to 17.00 in the shopping center "FORUM"! In fair will participate fishing and trading companies of Murmansk region.
At the fair, people from Murmansk region will be able to taste and purchase high-quality Murmansk fish and fish products at prices 25-30% below market!
At fair, the atmosphere of festival will be created by performances of creative teams from the region, visitors will be able to participate in the prize draws, and children – have fun in creative workshops and entertainment shows.